---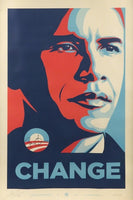 Contact for price
Hand signed by both US President Barack Obama and the artist Shepard Fairey. Extremely rare, only 10 prints were officially signed by both.
The election of Presidant Barack Obama as the first African American president of the United States of America was a historic achievement unlike any other. The artwork Shepard Fairey's produced for the campaign will be inextricably linked with this moment. His HOPE image went viral, and has now become iconic, spawning many different versions and variations in themes and subjects.
This version, CHANGE, shows Obama with a more serious and powerful expression. His brows furrowed as he looks in the distance. He would go on to win the Nobel Peace Prize and be re-elected for a second term.
The full run of this print is 5000, of which only the first 200 are signed by Shepard Fairey, and first 10 signed by both Barack Obama and Shepard Fairey.